It seems that Pleasantville was a Republican suburb until two proselyte Democrats came to town.

Well, isn't this just swell?! Two nostalgic TV-wasteland pictures in one year. The first out of the starting box was of course The Truman Show, directed by Peter Weir. Peter was responsible for the very fine Dead Poets Society and Witness (which set the stage for all future good-cop-hiding-in-Amish-community-from-corrupt-legal-system plot lines). Truman was written by Andrew Niccol who also wrote Gattaca, the sleeper sci-fi superb of this year.
Pleasantville was written, directed and produced by one Gary Ross. Mr. Ross did similar biathlon theatrics with Dave and Big, both writing and producing.
Broad Similarities
people trapped in TV land
God-complex characters
humanitarian and/or philosophical themes
Both Truman and Pleasantville are very similar in theme. Innocent and not-so-innocent people become trapped inside the picturesque towns of television. The former doesn't know it, while the latter are trying to get out of it. By the way, you can forget about implausibilities; both films are escapist which is forgivable. The genre is part fantasy, part comedy.
Summary
Pleasantville (September 17, 1998)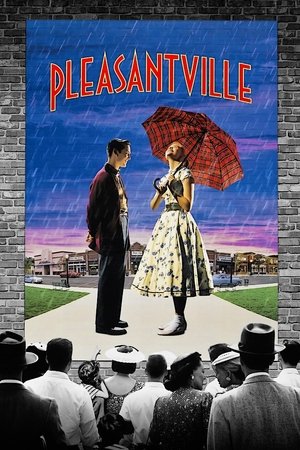 Geeky teenager David and his popular twin sister, Jennifer, get sucked into the black-and-white world of a 1950s TV sitcom called "Pleasantville," and find a world where everything is peachy keen all the time. But when Jennifer's modern attitude disrupts Pleasantville's peaceful but boring routine, she literally brings color into its life.
Tobey Maguire
Role: David
Reese Witherspoon
Role: Jennifer

William H. Macy
Role: George Parker
Joan Allen
Role: Betty Parker
Jeff Daniels
Role: Bill Johnson
Don Knotts
Role: TV Repairman
Marley Shelton
Role: Margaret Henderson
Jane Kaczmarek
Role: David's Mother

Giuseppe Andrews
Role: Howard
Jenny Lewis
Role: Christin
Marissa Ribisi
Role: Kimmy
Denise Dowse
Role: Health Teacher

McNally Sagal
Role: Science Teacher
Paul Morgan Stetler
Role: College Counselor

Kevin Connors
Role: Bud Parker
Natalie Ramsey
Role: Mary Sue Parker
Justin Nimmo
Role: Mark Davis
Kai Lennox
Role: Mark's Lackey #1
Jason Behr
Role: Mark's Lackey #2
Harry Singleton
Role: Mr. Simpson
John Ganun
Role: Fireman #1
Paul Walker
Role: Skip Martin

Dawn Cody
Role: Betty Jean
Maggie Lawson
Role: Lisa Anne
Andrea Baker
Role: Peggy Jane
Lela Ivey
Role: Miss Peters
Marc Blucas
Role: Basketball Hero
Danny Strong
Role: Juke Box Boy
Interestingly, both films have their respective God-like characters that control the events of each story. In Pleasantville, a mysterious TV Repairman first introduces our two heroes to this black-and-white town. Meanwhile, the TV Producer Christof in Truman commands the environment around the solitary hero stuck unknowingly in the make believe world that is the Truman Show.
While Truman leaves us with a reaffirming sense of the human condition, Pleasantville serves to smash traditional conventions and conservative ideals. You might have to look for the differences; they're subtle.
Subtle Differences
Truman – celebration of the human spirit, while satirizing media manipulation
Pleasantville – clash of worldviews, as 50's family values meets 90's liberal ideology
Summary
The Truman Show (June 4, 1998)
Truman Burbank is the star of "The Truman Show", a 24-hour-a-day "reality" TV show that broadcasts every aspect of his life -- live and in color -- without his knowledge. His entire life has been an unending soap opera for consumption by the rest of the world. And everyone he knows -- including his wife and his best friend -- is really an actor, paid to be part of his life.
Jim Carrey
Role: Truman Burbank

Laura Linney
Role: Meryl Burbank / Hannah Gill
Noah Emmerich
Role: Marlon / Louis Coltrane
Natascha McElhone
Role: Lauren / Sylvia Garland

Holland Taylor
Role: Alanis Montclair / Angela Burbank
Brian Delate
Role: Walter Moore / Kirk Burbank
Paul Giamatti
Role: Simeon

Peter Krause
Role: Laurence

Blair Slater
Role: Young Truman
Heidi Schanz
Role: Vivien

Ted Raymond
Role: Spencer
O-Lan Jones
Role: Bar Waitress

Krista Lynn Landolfi
Role: Bar Waitress
Harry Shearer
Role: Mike Michaelson
Jeanette Miller
Role: Senior Citizen
Philip Glass
Role: Keyboard Artist


Joe Minjares
Role: Bartender
Philip Baker Hall
Role: Network Executive
John Pleshette
Role: Network Executive
Terry Camilleri
Role: Man in Bathtub
Joel McKinnon Miller
Role: Garage Attendant
Judy Clayton
Role: Travel Agent
Fritz Dominique
Role: Truman's Neighbor
Angel Schmiedt
Role: Truman's Neighbor
Nastassja Schmiedt
Role: Truman's Neighbor
Muriel Moore
Role: Teacher
Mal Jones
Role: News Vendor
Judson Vaughn
Role: Insurance Co-Worker
Earl Hilliard Jr.
Role: Ferry Worker
David Andrew Nash
Role: Bus Driver / Ferry Captain
Jim Towers
Role: Bus Supervisor
Savannah Swafford
Role: Little Girl in Bus
Antoni Corone
Role: Security Guard

Mario Ernesto Sánchez
Role: Security Guard
John Roselius
Role: Man at Beach
Kade Coates
Role: Truman (4 years)
Marcia DeBonis
Role: Nurse
Sam Kitchin
Role: Surgeon
Sebastian Youngblood
Role: Orderly
Dave Corey
Role: Hospital Security Guard
Mark Alan Gillott
Role: Policeman at Power Plant
Jay Saiter
Role: Policeman at Truman's House
Tony Todd
Role: Policeman at Truman's House
Marco Rubeo
Role: Man in Christmas Box
Daryl Davis
Role: Couple at Picnic Table
Robert Davis
Role: Couple at Picnic Table
R.J. Murdock
Role: Production Assistant
Matthew McDonough
Role: Man at Newsstand
Larry McDowell
Role: Man at Newsstand
Joseph Lucus
Role: Ticket Taker
Logan Kirksey
Role: TV Host
Adam Tomei
Role: Control Room Director
John Pramik
Role: Keyboard Artist
Al Foster
Role: Bar Patron
Zoaunne LeRoy
Role: Bar Patron
Millie Slavin
Role: Bar Patron
Dona Hardy
Role: Senior Citizen
Tom Simmons
Role: Garage Attendant
Susan Angelo
Role: Mother
Carly Smiga
Role: Daughter
Yuji Okumoto
Role: Japanese Family
Kiyoko Yamaguchi
Role: Japanese Family
Saemi Nakamura
Role: Japanese Family
The real qualitative difference in the two movies is the moral. The moral of Truman is this: "You can't cage the human spirit." Any attempt to control it and pipe it onto television for the consuming masses to digest like the grandest soap opera of all time will fail. Pleasantville's moral is slightly different: "You don't have the right to inhibit human happiness." Any attempt to stifle the personal gratifications of citizens trapped in a mundane life is ultimately close-minded and bigoted.
The focus is starkly different too. In Truman, we (the theatre) are focused entirely on one man, participants with the watchers of the TV show in the film. So in that sense, we too are guilty of entrapping this man in our selfish insatiable desire for entertainment. In essence, the focus is from the inside out, as the selfless sincerity of the one man spreads outward, liberating us all. With Pleasantville, the opposite is true with the focus ending on each individual. We watch the brother-and-sister duo "liberate" the citizens of Pleasantville with the notion that their way of life is choking their creativity.
J.T. Walsh's character Big Bob, who is obviously the antagonist of the film, represents the moral opposition to all this change. In the safe haven of the local bowling alley, he assures his comrades, "This is a matter of values… It's about protecting what made this town great." It seems that Pleasantville was apparently a Republican suburb until our two proselyte Democrats came to town.
The before-and-after scenes are quite stark. Before the cultural saviors (David, aka Bud, and Jennifer, aka Mary Sue) arrive, the citizens in Pleasantville are mindless, lacking any originality or independent thought. Introduced to any change in the routine, however, results in some strange happenings. Mr. Johnson, the soda shop owner, wipes the veneer off the bar counter, waiting for Bud to arrive late to work. Mary Sue introduces her Pleasantville mother to sex. And of course the mother's experimentation "liberates" her from her fidelity to her husband.
With this liberation comes pigmentation. Up until now, the entire town is black and white, including the townsfolk. Soon, the town becomes divided, with those that have color (enlightenment) and those without. Those without (the moral majority) have isolated the "coloreds" into the soda shop, ridiculing them with the hatred of an unruly mob. They destroy the painter's art and burn the readers' books. Big Bob then congregates the citizens in the town hall to discuss what to do with the coloreds. "The way I see it, to make this town pleasant again we need to remove what is unpleasant." It's conservatism represented as fascism.
Pleasantville's attack isn't so much on the lifestyle of the 50's. It's more an assault on moderate behavior. Constancy is viewed as a vice, traditional values as travesty. Point number eight in the "Code of Conduct" drafted by the townspeople read, "The high school curriculum shall consist of an unchanging view of history, emphasizing continuity over alteration." This certainly sounds close-minded, doesn't it? At least we're made to think so.
Despite being offended by Pleasantville, I was nevertheless entertained. Overall, the two films were both highly watchable. I found myself utterly intrigued by both story lines. Both were very, very well written and highly entertaining. Put to a contest however, I was ultimately more satisfied with Truman. As Pleasantville stooped to 90's pop-morality revisionism, Truman was bold with its reinforcing view of the future.