For those that like a little dose of fictional fear and thrill each October, there are endless Halloween movie candidates.  This year's lineup for me was:
The Boy
The Endless
Apostle
Creep 2
Hush
Holidays
Hold The Dark
I plan to also watch a couple TV shows, which I'll cover later.
Ghoul
The Haunting of Hill House
Summary
Creep 2 (October 6, 2017)
After finding an ad online for "video work," Sara, a video artist whose primary focus is creating intimacy with lonely men, thinks she may have found the subject of her dreams. She drives to a remote house in the forest and meets a man claiming to be a serial killer. Unable to resist the chance to create a truly shocking piece of art, she agrees to spend the day with him. However, as the day goes on, she discovers she may have dug herself into a hole from which she can't escape.

Desiree Akhavan
Role: Sara
Patrick Brice
Role: Old Aaron
First up was Creep 2, the sequel to Creep.  I liked what Creep set out to do: a serial killer first-person story in the genre of found footage.  That's an interesting hook.  The sequel took the now-franchise to new areas, yet I found it lacking.  It's so persistently odd, and not in a good way.  I was pretty bored.
Summary
Hush (March 12, 2016)
A deaf woman is stalked by a psychotic killer in her secluded home.

John Gallagher Jr.
Role: Man
Samantha Sloyan
Role: Sarah
Michael Trucco
Role: John
Hush is a home invasion movie.
That's probably enough for you to form an opinion right there.  It usually is enough for me.  These kinds of movies are punishing to both their characters and their audiences.  Watching them is an act of both sadism and masochism.  They've been called "torture porn" and for good reason.
The interesting hook with this Hush is that the lead is deaf and mute. And its slightly redeeming quality is that the bad guy gets his in the end too. 
Summary
The Boy (January 22, 2016)
An American nanny is shocked that her new English family's boy is actually a life-sized doll. After she violates a list of strict rules, disturbing events make her believe that the doll is really alive.
Lauren Cohan
Role: Greta Evans
Rupert Evans
Role: Malcolm
James Russell
Role: Brahms Heelshire
Jim Norton
Role: Mr. Heelshire
Diana Hardcastle
Role: Mrs. Heelshire

Jett Klyne
Role: Young Brahms Heelshire
Lily Pater
Role: Emily Cribbs
Stephanie Lemelin
Role: Sandy (voice)

Matthew Walker
Role: Taxi Driver
Next up is The Boy.  I really liked this one! It's small in scale with a simple premise:  An old couple in a huge gothic mansion care for a life-sized boy doll, roughly the age of 8 years old.  Why? Maggie from Walking Dead comes to babysit and things go creepy from there.  It's tightly claustrophobic and well-paced.  I wasn't bored at all.
There's also one hell of a twist.
Summary
The Endless (April 6, 2018)
Two brothers return to the cult they fled from years ago to discover that the group's beliefs may be more sane than they once thought.

Aaron Moorhead
Role: Aaron Smith

Justin Benson
Role: Justin Smith
Callie Hernandez
Role: Anna


Shane Brady
Role: Shane Williams


David Lawson Jr.
Role: Dave

James Jordan
Role: 'Shitty' Carl
Emily Montague
Role: Jennifer Danube
Peter Cilella
Role: Michael Danube
Vinny Curran
Role: Chris Daniels
Ric Sarabia
Role: Early 1900's Man
Josh Higgins
Role: Ted Tellensworth
Next is The Endless.  Though not expressly a Halloween movie, this bizarre mind warp of a cult movie fits right in there tonally.
Two brothers return to a religious community they fled 10 years ago to better understand what they left.  The Endless quickly becomes an hallucinatory X-Files.  You're never quite sure what's real and what's not. There are genuine moments of dread and mystery though these are undercut by oddly misplaced humor.
Still, this little gem does a lot with very little.
Summary
Apostle (September 21, 2018)
In 1905, a man travels to a remote island in search of his missing sister who has been kidnapped by a mysterious religious cult.
Dan Stevens
Role: Thomas Richardson
Michael Sheen
Role: Malcolm Howe
Lucy Boynton
Role: Andrea

Kristine Froseth
Role: Ffion

Mark Lewis Jones
Role: Quinn

Richard Elfyn
Role: Charles

Catrin Aaron
Role: Elaine


Gareth John Bale
Role: Bar Keeper
Ioan Hefin
Role: Bell Ringer

Rhian Morgan
Role: Innkeeper

John Weldon
Role: Lonely Passenger

Gareth Pierce
Role: Man #1

Rhys Meredith
Role: Man #2

Ross O'Hennessy
Role: Suspicious Passenger

Sebastian McCheyne
Role: The Grinder

Owain Gwynn
Role: Townsguard

Annes Elwy
Role: Sinead (uncredited)
Tis the season for creepy cult movies I guess.  Here's another, though more focused on fearful Halloween themes.  In Apostle, A man returns to retrieve his sister from a turn-of-the-century cult.
This one is more similar to the amazing The Witch, where the insane images of long-ago religious fundamentalism create intense dread and despair.  I was quite amazed with what Netflix pulled off in terms of production value; you can see and feel it in the period costumes and setting.
It's been compared to The Wicker Man — Apostle clearly borrows heavily from it.  It's expertly paced, careful to unveil its dark shadows slowly. When something shocking happens, it's such an intensely abrupt interruption as to make you shutter.
Toward the third act, the grand guignol gore really ramps up exponentially. That either delights or repulses you, depending on your horror tastes.
Either way, Apostle doesn't disappoint.
Summary
Holidays (April 22, 2016)
An anthology feature film that puts a uniquely dark and original spin on some of the most iconic and beloved holidays of all time by challenging our folklore, traditions and assumptions.

Harley Quinn Smith
Role: Holly

Seth Green
Role: Pete Gunderson
Clare Grant
Role: Sara Gunderson

Ruth Bradley
Role: Elizabeth Cullen

Jocelin Donahue
Role: Carol
Harley Morenstein
Role: Ian
Andrew Bowen
Role: Reggie
The Holidays is an anthology movie, several directors bring their short films together into a single movie.  The connecting thread between them all is each focuses on a holiday of the month.  I like this little movie's earnestness.  I'm reminded of the far superior VHS (not its sequel).
The holiday films are:
Valentine's Day
This was a fun little creep fest that starts out innocuously in a high school bullied protagonist setting.  And then it suddenly gets dark with bloody revenge.  The ending is goofy but playful.
St. Patrick's Day
My god, what a fever dream of a film! It's delightfully gruesome but impossible  to follow.
Easter
Easter was delightfully sacrilegious.  What happens when the Crucifixion and the Easter bunny have a twisted love child? Watch to find out.
Mother's Day
A young woman with a curious inverse-fertility disorder seeks out alternative healthcare from an women's cult in the remote desert.  What could go wrong? The barren cult members keep her in a drug-induced state for her birthing capacity, but is she just carrying another Rosemary's Baby?
Father's Day
I was really blown away by this chapter.  The story was expertly crafted, tight and creepy.  It was well-lit and shot.  Every little detail sucked me in immediately.
A woman receives a mysterious package from her long lost father.  There are audio recordings inside of him and a much younger her.  Yet, the story becomes dreamlike, as the timeline gets blurry.
I won't talk more about the details. They should be experienced first hand . It's truly a great film.  It's demonic and brutal in its starkness.  The thing nightmares are perfectly made of.
Halloween
Internet cam girls get their comeuppance on their pimpy landlord.  It was predictable, but perfectly serviceable.
Christmas
This one was really fun.  It was like a lost episode of Dark Mirror, where a father steals a popular virtual reality gaming system for his kid's Christmas present. The hook though is that this VR thing is capable of showing your what you want to see. When he peers into it, he's forced to grapple with what he did, along with his wife's alter ego.
New Year's Day
This one wins hands down (or off).  This one was so gleeful in classic horror tropes.  The villain is not necessarily who you think it is.  There's abduction, ax wielding mayhem, and most importantly, splatter.
Summary
Hold the Dark (September 22, 2018)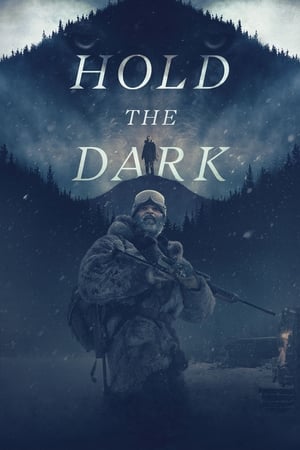 In the grim Alaskan winter, a naturalist hunts for wolves blamed for killing a local boy, but he soon finds himself swept into a chilling mystery.
Jeffrey Wright
Role: Russell Core
Alexander Skarsgård
Role: Vernon Slone
James Badge Dale
Role: Donald Marium

Riley Keough
Role: Medora Slone
Julian Black Antelope
Role: Cheeon
Jonathan Whitesell
Role: Arnie

Beckam Crawford
Role: Bailey
Peter McRobbie
Role: Hunter John

Tantoo Cardinal
Role: Illanaq


Savonna Spracklin
Role: Susan

Lonni Olson
Role: Angry Cop on Radio
Eric Keenleyside
Role: Big Deputy

Michael Tayles
Role: Clerk
Brian Martell
Role: Coroner

Conor Boru
Role: Corporal
Gabriel Cross
Role: Crying Cop

Barb Mitchell
Role: ER Doctor
Vanessa Holmes
Role: Frantic Wife
Maureen Thomas
Role: Innkeeper

Anabel Kutay
Role: Iraqi Woman
Emmanuel Imani
Role: Medic

Makambe Simamba
Role: Nurse

Sean Hoy
Role: Old Timer Deputy
Amanda Burke
Role: Slone's Mother
Ryan Irving
Role: Young Deputy
Zandus Snow
Role: Yup'ik Boy

Joseph Whitebird
Role: Yup'ik Man
Clarence Hoof
Role: Yup'ik Prayer #1
Savannah Bird
Role: Yup'ik Prayer #2
Karen Powderface
Role: Yup'ik Prayer #3
Issac Bird
Role: Yup'ik Teen
Lorette Clow
Role: Core's Wife (uncredited)

Nicholas Asbury
Role: Doctor (uncredited)
Mark Beswick
Role: Doctor Hecks (uncredited)
Hold The Dark isn't strictly a Halloween or horror movie.  Although it is horrifying.  Technically, you'd probably call it a psychological drama, or a crime thriller.  There are no ghosts and ghouls lurking around corners, no jump scares.
Instead, the trauma is very earthbound.  The dread is bleak and natural. It takes itself very seriously, which I appreciate; there's not an ounce of camp in this one. 
A disturbed Alaskan mother is convinced that her son has been taken by wolves. Her psychotic veteran husband returns from battle to make amends. And an outsider naturalist comes to lend a hand.  The desperation of the characters is equaled by their frozen surroundings. The howling of the wind and the howling of the wolves makes for an inhospitable landscape.
It's a finely crafted film with mood abounding, brought to us by Jeremy Saulnier.  He also made Green Room and Blue Ruin, both amazing crime films of stark brutality.  It shows here too, though with less focus.
While the soundtrack was stunning, the ending of Hold the Dark was frustratingly esoteric.